2012.07.06 SPCG Chairman visit the smart grid demonstration facility.


SPCG Chairman visit the smart grid demonstration facility.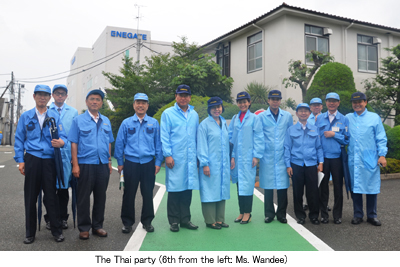 Ms. Wandee Khunchornyakong, Chairman of SPCG Public Company Limited and four others visited Japan on July 6 to view facilities.
 They first visited the Kansai Electric Power Company Osaka-Kita Branch (electric supply control station) and Ogimachi Sales Office (power distribution automation system). Afterward, they visited our smart grid demonstration facility and the ECOCUBE production line at our Senrioka office.
 In his welcome speech at the Senrioka office, ENEGATE President Hirofumi Tayama, expressed sympathies regarding the Thai flooding to Thailand and congratulated Ms. Wandee regarding formal registration of joint venture ENEGATE (THAILAND).
 After that, they toured a cubicle production line and the manufacturing line of unit type watt-hour meters at ECOCUBE. At the smart grid demonstration facility, they eagerly viewed the substation for SG smart grid demonstration and "eco-Q den" electric vehicle charging systems.
In the smart lab, they viewed the smart grid monitoring and control room, HEMS environment, and more.
 In Thailand, where there is much interest in smart grids, construction of infrastructure for energy management is an urgent concern.
So, discussions after the factory tour centered on the topic of energy management.
 Mr. Tayama explained how the company is considering deployment of smart grid associated business also as joint venture ENEGATE (THAILAND). Ms. Wandee expressed how they felt that they were shown a wonderful demonstration system and that they hope to refer to it in introducing energy management in Thailand. Their words implied that they were quite satisfied with the tour.